Welcome to ESPRO
ESPRO is a dynamic, interactive, Forum where Europe's leading property Stakeholders, both public and private, can on a common platform meet and act upon issues related to the creation of a sustainable property sector in Europe. These Stakeholders include legislators, property investors, corporate investors, tenant organisations, planning authorities, consultants and contractors.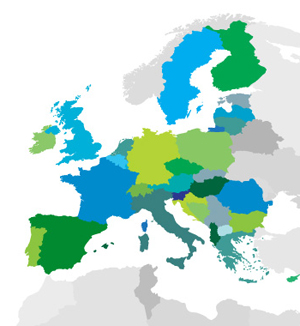 ESPRO's Mission is based on the premise that Planet Earth cannot sustain life without the attainment of a Sustainable Society. Due to the dominant role which the property sector plays in the consumption of natural resources and the generation of waste and pollution, a Sustainable Society cannot be achieved without the creation of a Sustainable Property Sector.
ESPRO is the result of programmes of research, development and international networking performed by The Windborne International Group and financed by a variety of Swedish Governmental Agencies (under either The Ministry for the Environment and/or The Ministry for Industry) and UK and Swedish property sector Stakeholders.
The Windborne International Group is responsible for the development and management of ESPRO.
The primary Founder Member financiers are The Swedish Energy Agency (SEA) and The Royal Institution of Chartered Surveyors (RICS) in the UK.
The Programme has, amongst other activities, involved the preparation of three reports entitled 'The Conversion to Sustainable Property Development in Europe' ( Reports 1 – 3 ). A number of conferences have also been held where leading European property sector stakeholders have actively participated both as Speakers and delegates.
These include an International Conference held at the Swedish Governments Headquarters entitled: 'Sustainable Building in Europe: Cost Benefits-Value' in 2005, The London Conference held in  2006 at The Royal Institution of Chartered Surveyors, entitled 'The Move towards Sustainable Property Development in Europe' and the Barcelona Conference of 2011 entitled 'Converting the European Property Sector to Combustion-free Energy Systems'..
ESPRO is the primary public private sector Forum operating as a Driver of Change in the move towards the development of a sustainable European property sector.
ESPRO is focussing its efforts upon several areas of sustainable development ranging from the macro level ( city planning, urban transport systems, regional energy systems) to the micro level ( building design and construction, local energy systems ). Activities include the establishment of sustainable policies and strategies, the arrangement of interactive events and the initiation and development of Pilot Projects.